Cici discovers something strange about her city and begins to collect evidence to prove her case. Paul Pudding just wants to be fed and doesn't want all the responsibility that comes with being the cat mayor.
We started this project to support University of Orange's hardworking activists, organizers, and caretakers, providing them a space to rest, play (as a form of resistance!) and manifest their visions unencumbered.
We have come to see Tiny Town as a place for healing where adults and kids can express and acknowledge all parts of themselves, try out new ideas, identities, arrangements, and rehearse ways to take care of themselves and others.
Supported by
University of Michigan's Urban Technology Prototype Grant
---
A library filled with old stories that are curated and wheelbarrowed around by Roro the old lady. When her knees begin to hurt on a humid day, she asks friendly strangers to help her deliver the books to the new old spa all the way across the city.
Featuring books by Benjamin Han, Brad Gilbert, Christopher Chen, Joseph Lim, Joshua Chang, Kaius Wu, Karen Guan, Kay Liang, Maya Cannon, Michelle Lim, Taylor Pannell, Taylor Pannell, Liby Hays, Julie Benbassat, Mayo Saji, Maya Bjornson, Aliasger Rasheed, Kevin Dong, Angela Yu, Holly Barszcz, Margaux Simmons, Ayako Maruyama, Aubrey Murdock, Doug Farrand, Maria Gerdyman, Cathy Hsiao, Ada Chen, Ava Zeichner, Daniel Pollack, Tiffany Ling, Hannah Liongren
---
Hearth with Gakko
A digital gathering for summer camp alumni to reconnect and reflect on the theme of collective memory. A writing workshop (based on Lynda Barry's
Writing the Unthinkable
) followed by an audio-only interactive adventure to
a mouse's magical burrow of immaterial gifts.
Directed by Lilly Callahan
Written/Facilitated by Maria Gerdyman and Kay Liang
---
Storyplaying Club
A roleplaying improv club for adults to explore sticky topics like
Romance
and
Friendship
from personal experience. Participants roleplay as their own avatars, improvise their scenes in
La Ronde
and begin each scene with an accusation.
---
Adventure Board with Design Studio for Social Intervention (DS4SI) for North Carolina Association of Educators (NCAE)
The Adventure Board is a fun and powerful way for educators to connect, build and imagine new ways to embed ideas of justice, equality, and collective learning into our work.
Facilitated by Lori Lobenstine, Ayoka Turner and Nicole Flynt Coded by Kay Liang
Illustrated by Maria Gerdyman
---
Lumen's Birthday, Big Trouble in Campfire
Welcome…to the faraway land of Campfire…but all is not well in Campfire. The forest creatures have been feeling uneasy. Nobody is sure what is coming, but everyone agrees that TROUBLE is afoot.

Campfire needs your help! It's up to you to figure out what's going on and to set it right. Look for the animal sages and seek their advice!

Written/Directed/Narrated by Alex Hornstein
Invitations/Cake/Hosted by Hannah Liongoren
Coded/Facilitated/Map Illustration by Kay Liang
Assets Managed/Facilitated by Maria Gerdyman

Featuring voice actors: Amy/Don, Marcus, Muffin, Anastasia, Aya, Bilal, Lolo Carl, Eli, Apol

---
Isla's Birthday at Starlight Wishes
Luna's friends take her to the forest clearing where they have set up a surprise party, only to be sabotaged by the Choko Cheer Squad with their annoying music. Luna's friends must use their swift powers to stop them.

Written/Directed by Isla
Planned by Adria Marchetti
Narrated/Facilitated by Kay Liang and Maria Gerdyman

---
Rui's Birthday at the Robber's Lounge
The robbers of Tiny Town steal all of Rui's favorite zones, characters and friends in order to surprise him on his birthday! Tiny Towners are sent on a quest to find the needed ingredients for the missing birthday cake: a unicorn napkin, a glow-in-the-dark parachute guy, and a frog.

Planned by Adriana Young
Written/Facilitated by Kay Liang and Maria Gerdyman

---
Farmer's Market in Valley Ville
A market filled with angsty peaches, competitive green onions, perky oranges and tired loafs of bread.

Featuring market items by (coming soon)

---
Valley Ville (Tiny Town Season 3)
The children of Tiny Town land indefinitely in Valley Ville, a neighboring town. They encounter strange villagers who teach them a new way of being together.

---
Tour of Tiny Town at SVA
A virtual tour of Tiny Town for SVA students who are researching "learning pods" and micro schools that have emerged in response to the pandemic.

Invited/Facilitated by Adriana Young.
Guided by Kay Liang.

---
Tour of Tiny Town at Parsons
A virtual tour of Tiny Town for 16 Parsons students who are a mix of architects, fashion designers, strategists, and graphic designers. The class is about research methods.

Invited/Facilitated by Adriana Young.
Guided by Kay Liang.

---
Campfire with Kay at Hudson Lab School
A rainbow llama, fly, hershey bar meet at a campfire and decide to go on an adventure to find the tooth fairy's missing tooth.

---
Campfire with Kay and Maria at Social Emergency Response Center (SERC)
In the middle of the forest, there is a flame (or fire, as some may say), waiting to swallow unwanted things.

A roleplaying and drawing workshop about letting go.

---
Tiny Town Season 2
The children of Tiny Town play infamous robbers who meet in hideouts, steal everything in sight and unload their bounty in various burrows. They land an interview at the Tiny Town TV studio, where they reveal their favorite colors and why they steal.

---
Our Shared Street with Arlington Transportation Partners (ATP)
Shayna takes Leo on a public transportation adventure in Shared City with the help of family and friends. A workshop / interactive TV show for families interested in Arlington Transportation.

Our Shared Street is an Arlington Transportation Partners (ATP) initiative that empowers communities, removes barriers to public transportation, and encourages care and respect towards all modes on the road.

Invited by Chloe Varelidi.
Co-facilitated by Kay Liang and Elaine Khuu.

---
Tour of Tiny Town at Copenhagen Institute of Interaction Design (CIID) in Costa Rica
A virtual tour of Tiny Town for 27 CIID students who are studying design for better urban living.

Invited/Facilitated by Adriana Young.
Guided by Kay Liang.

---
Campfire with Kay at Pono
Every morning for 20-minutes, children gather around a small campfire for silly stories from a fly and an unpredictable turn of events. They are invited to add anything they wish to the campfire, from fruit monsters to booger.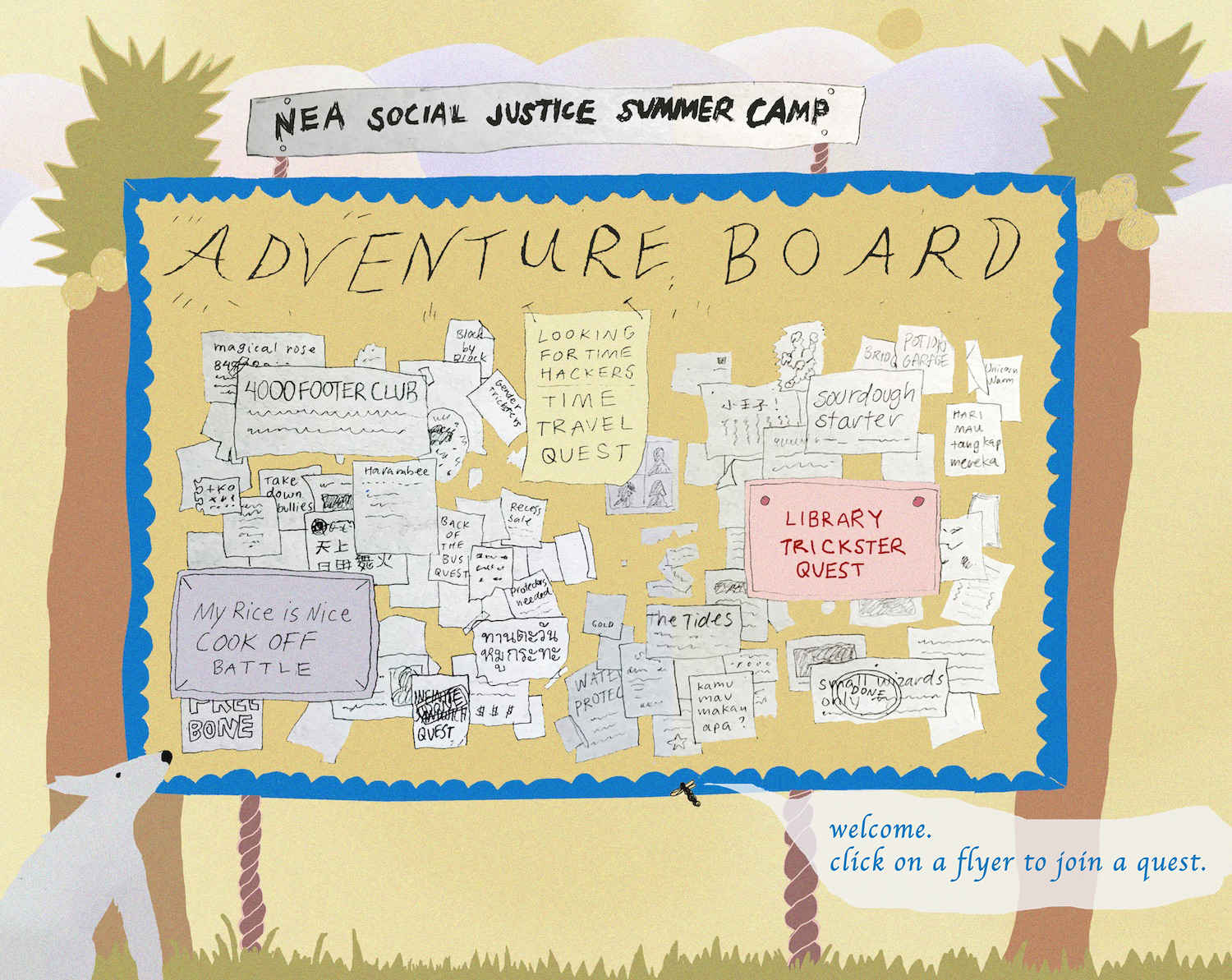 ---
Adventure Board with Design Studio for Social Intervention (DS4SI)
NEA Center for Social Justice Summer Justice Series

New arrangements in our schools can re-ignite justice and energize collaborative learning for our students and educators. This session features an imagined arrangement we're calling "The Adventure Board."

Designed by Maria Gerdyman.
Coded by Kay Liang.

---
Social Emergency Response Center (SERC) with Design Studio for Social Intervention (DS4SI)
In 2017, DS4SI created Social Emergency Response Centers (SERCs) to help people understand the moment we're in, from all different perspectives. Co-created with activists, artists and community members, SERCs are temporary, pop-up spaces that help us move from rage and despair into collective, radical action.

Designed by Ayako Maruyama.
Coded by Kay Liang.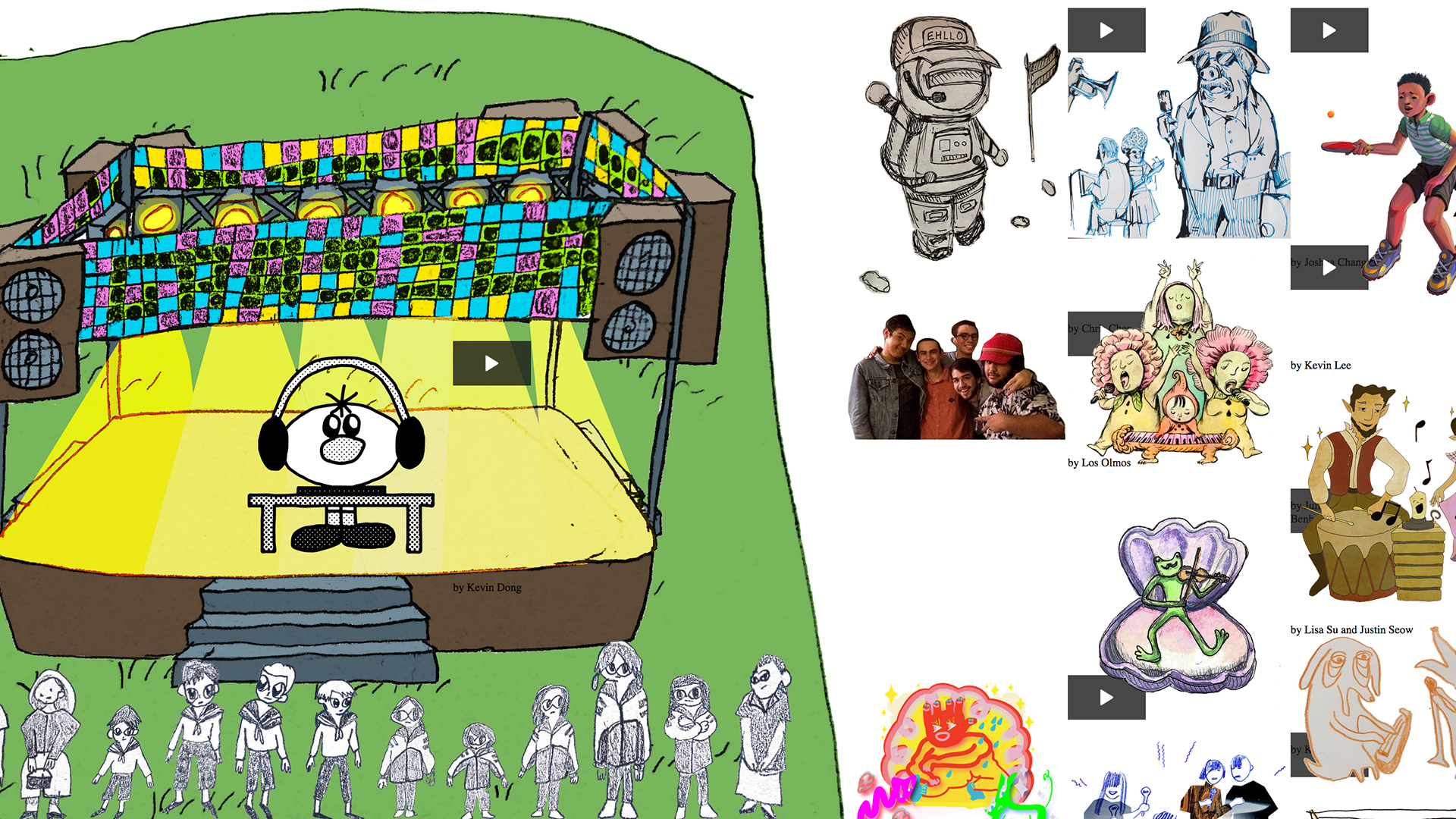 ---
Grasslands Music Festival in Tiny Town
The annual Grasslands Music Festival is held every year in Spring. The best musicians from Capital City and beyond are invited to perform atop a field of freshly mown fake muted green grass for an audience of adolescents and adults in denial. Musicians that are anticipated this year include the Hm-bird, Dayson Jerulo and of course the Sir Dukes boys' choir. In order to get tickets to the music festival, you must enter your name in a lottery station outside the Ludwig Stadium. Winners are emailed the weekend before the festival weekend, and then it becomes a rush to barter and sell and trade and steal and hack confirmation numbers so that you can get a spot.

Featuring musicians/bands by Chris Chen, Diego Rodriguez Langevin, Kevin Dong, Dorothy and Bella Carlos, Jeffrey Liang, Jeremy Joachim, Joshua Chang, Julie Benbassat, Kaius Wu, Karen Guan, Kay Liang, Kevin Lee, Lisa Su, Justin Seow, Maya Cannon, Levi Cannon, Michelle Lim, Nabil Burias, Will Samosir, Sasha Lee, Taylor Pannell, Theia Flynn, Valerie Zhu, Vienna Boys Choir, Doug Farrand.

---
Lenny's Library in Tiny Town
The library was a beloved afterschool location for the children of Tiny Town. Each library card holder could borrow one book and had one month to return it. After the school closed prior to Tiny Town Season 1, the children no longer had a reason to go outside and so the library closed shortly afterwards as well. Books that were borrowed were never returned. In Episode 3, the children go on a quest to retrieve these missing books for Lenny the librarian.

Featuring books by Adriana Young and Rui Amitai, Ayako Maruyama, Ben Han, Brad Gilbert, Brigitte Breaux, Joshua Chang, Julie Benbassat, Kaius Wu, Liby Hays, Kay Liang, Theia Flynn, Malery Nguyen, Maria Gerdyman, Maya Cannon, Michelle Lim, Steve Goldstein, Taylor Pannell, Yuko Torihara.

---
Tiny Town Season 1
The children of Tiny Town leave their homes for the first time to discover each other and a world beyond. Together, they make objects that help them play, communicate, love and search for what they have been missing.

---
Hidden Gems at Pono
Hidden Gems is an afterschool program set in a fictional world called Gemland where children enter every week as apprentices of the knowledgable but magic-less sage, Samantha Stone.
Learn More (coming soon)